Who were the Mike Pence hecklers in Gettysburg?
---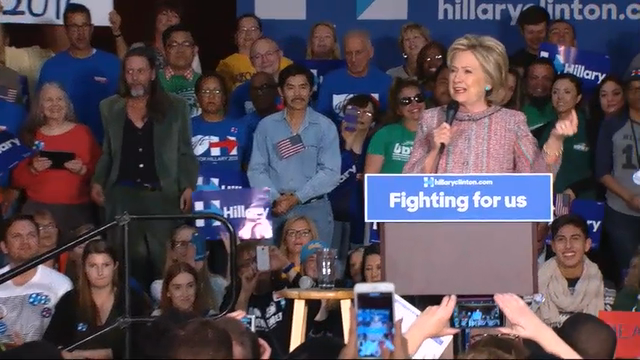 Clinton Distracted by Shirtless Men at Rally
Hillary Clinton joked with supporters at a California rally Wednesday that she was a bit distracted by two shirtless men in the front row of her event. Laughing with the crowd, Clinton said, \u0022as long as they don't take anything else off!\u0022
AP
Two brave souls had a message for Indiana Gov. Mike Pence at a Gettysburg town hall in early October.
Wearing brightly colored red and yellow ponchos, they shouted at the Republican vice presidential nominee to get off Donald Trump's "sinking ship" of a presidential campaign.
"S.S. Trump is going down!" they called out at the Wyndham Gettysburg campaign event. "Don't go down with the ship!"
However, these men were not truly all that concerned about Pence's political future, as they are a comedy duo called The Good Liars. Their film, 'Undecided: The Movie,' which catalogs their journey meeting presidential candidates throughout the 2016 campaign, hit Netflix on Tuesday.
The antics of Jason Selvig and Davram Stiefler have garnered attention across social media during the course of election season, whether they were distracting Hillary Clinton with their shirtlessness at a rally or calling Donald Trump "boring" during a campaign event.
"We're proud we were able to get it out before the election," Stiefler said of the film, which he described as "funny but a little bit poignant."
The movie provides a fictional context for the duo's behavior at campaign events this past year.
"They're all connected to a story that plays out in the movie," Selvig said.
Because the Oct. 6 town hall in Gettysburg was so recent, it did not make the final cut of the film. Instead, Selvig and Stiefler appeared in a YouTube video cataloging the event.
The Gettysburg crowd of Donald Trump supporters did not take kindly to the hecklers.
"We got manhandled by a bunch of Trump supporters," Selvig said.
Related: Gov. Mike Pence stumps in Gettysburg after debate
Selvig claimed he was pulled down by his poncho on his neck twice, and one individual struck Stiefler with their videographer's camera. In the video, a woman can be seen making an obscene gesture at Selvig and Stiefler as supporters begin to grab at them.
Although they had been kicked out of rallies before for their shenanigans, Stiefler said the Gettysburg town hall had "by far the most aggressive crowd" through several campaign events.
"It felt like there was a lot of anger in the room," Stiefler said. "People seemed a little too ready and eager to put their hands on us."
The supporters in the room began chants of "Trump" to drown out The Good Liars' interruptions, and Selvig responded by staying in character and chanting "Pence" back at them.
The moment was completely improvised by Selvig, Stiefler said.
It was the kind of thing that has caused the duo to continually go viral during their interactions with every single major candidate that ran for president in 2016, from Sen. Rick Santorum to Gov. Martin O'Malley.
Although the movie follows a fictional story line, The Good Liars assert the film bleeds into the reality of this extraordinary election season.
"We really think there's a little something for everybody in it," Selvig said.