HGTV's Joanna Gaines to release York-inspired wallpaper collection
---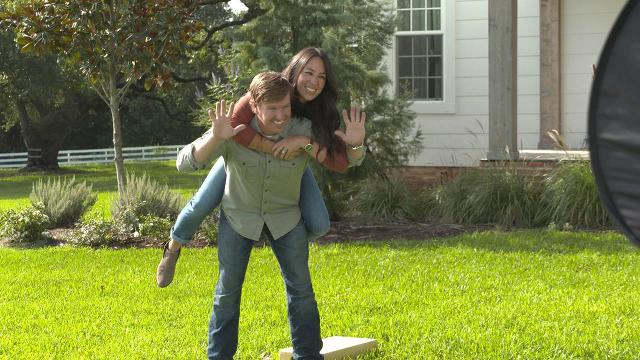 HGTV's Chip and Joanna Gaines: "We were broke!" before "Fixer Upper"
"The only money we had was what was in Chip's pocket," Joanna tells PEOPLE
Time
Hey, HGTV fans.
Do you ever wish someone from one of the channel's home-improvement shows would show up in your hometown and help you makeover your house?
Well, you're in luck.
In March, "Fixer Upper" star Joanna Gaines paid a visit to York. She wasn't filming segments for her show, but she was working on a new wallpaper line that could give your home the update it needs.
Gaines is collaborating with York Wallcoverings on the line, which will be called Magnolia Home.
"I see York as the gold standard of wallcoverings," Gaines said in an email. "They truly honor the rich tradition of wallpaper, and they were my first choice for this partnership."
During a visit to York Wallcoverings March 24, Gaines spent the day collaborating with York Wallcoverings designers on the design concept and touring the facility's design studio and manufacturing plant, York Wallcoverings marketing director Meg Pitner said. Gaines also looked through York Wallcoverings' archives and drew inspiration from a variety of wallpaper, fabrics and color swatches dating back to the early 18th century.
"I immediately fell in love with the place's rich history," Gaines said. "It was fascinating learning the different techniques on how it's all made and the history of the different patterns."
If you watch "Fixer Upper," you know Gaines loves to incorporate the history of a piece into her designs and breathe new life into vintage finds, Pitner said. And that's exactly what she'll do with her first wallpaper line.
When it's finished, it will be consistent with Gaines' signature design style, which blends "a glimpse of the past with new, original concepts," Pitner said.
Customers can expect a lot of neutrals, blacks and whites as well as some fun uses of color, texture and patterns.
"There's even a vintage farm toile print I'm extra excited about," Gaines said.
The line will be available in early 2017 at magnoliamarket.com and at retailers around the country, including York Wallcoverings retail store. This summer, York Wallcoverings will also carry Gaines' furniture line to give locals a preview of her style.
As she continues to work on her line, Gaines said she's not sure if future design meetings will take place in York or Waco, Texas, where her show is based. But either way, she said she'd love to come back to York and visit.
"While we were in town, the Saucer Magnolia trees were in full bloom, and the weather was perfect," she said. "It was dreamy."
Gaines is not the first HGTV celebrity York Wallcoverings has worked with in the past. The company has also collaborated with Candice Olson, an interior designer and host of "Divine Design" and "Candice Tells All," and licensed with well-known companies, including Disney and Marvel.