Where to get your time warp on: 'Rocky Horror' showings in central Pa.
---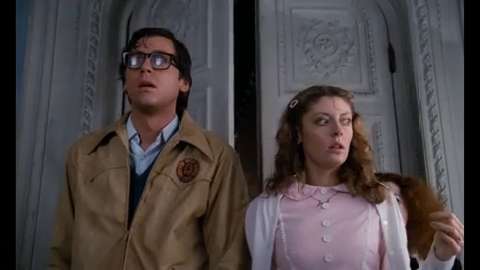 'Rocky Horror' 40th anniversary: 'Time Warp'
Richard O'Brien and cast perform 'The Time Warp' in the 1975 film 'The Rocky Horror Picture Show.'
Twentieth Century Fox
So, you've got the red wig, the rice, the water pistols, rubber gloves and other accessories packed into a bag.
You've memorized the words to "I'm Going Home" and "Hot Patootie (Bless My Soul)" along with countless other hits.
You've got the eyeliner on and the fishnets ready to go.
Now, where oh where will you go to see "The Rocky Horror Picture Show" before Halloween?
Luckily for you, we've done the homework. All you need to do is attend one of these strange presentations...after all, it's not easy having a good time!
Treat the cause, not the symptom!
Dig it if you can and get yourself over to the other side of the river when "The Rocky Horror Picture Show" plays during The Lancaster International Short Film Festival at Elks Lodge. Bring along your bells and party hats, as tossable items are encouraged for this showing. However, note that loose glitter, glass bottles, super-soakers (guess the water guns are a no-go on this one, folks) and lighters will not be permitted into the venue. There will be food and a full cash bar available at the film festival.
If you go:
When: Midnight on Friday, Oct. 21 (doors open at 11:30 p.m.)
Where: Elks Lodge, 219 N. Duke St., Lancaster
Cost: $15 in advance / $10 at the door; guests must 18 and older; visit lancastershortfilmfest.com
Oh, Brad, I'm frightened. What kind of a place is this?
In celebration of the film's 40th anniversary, Barry Bostwick, perhaps best known for his role as Susan Sarandon's simple-minded fiancé, Brad Majors in "Rocky Horror," will host a special screening of the film at the Pullo Center and share all of his special behind-the-scenes stories.
If you go:
When: 7:30 to 10 p.m. Saturday, Oct. 29
Where: The Pullo Center, 1031 Edgecomb Ave., York
Cost: $45-$95; visit thepullocenter.com
Whatever happened to Saturday night?
Bring along your appetite for campiness and sing-alongs for Hershey Theatre's showing of the film, but leave the props at home — the theater will have its own prop bags available to purchase. You'll feel right at home along the likes of Magenta, Riff Raff, Janet and other fanatics who will be singing along, line by line, as the film is shown in its original fashion — at midnight.
If you go:
When: 11:59 Saturday, Oct. 29
Where: Hershey Theatre, 15 E. Caracas Ave., Hershey
Cost: $8 for general admission seating; $6 for prop bags; visit hersheyentertainment.com
Let's do the time warp again!
It's just a jump to the left! And a skip to the– oh, you know the words! Anyway, Harrisburg Midtown Arts Center will give you a chance to watch the cult classic performed live by a cast of more than 20 actors, led by Ryan Boyles as Dr. Frank'N'Furter with starring Sean Deffley as Brad Majors and Taryn Sprenkle as Janet Weiss. Guests are welcome to dress as your favorite characters or phantoms and bring props to this portrayal.
If you go:
When: 8 p.m. and midnight Friday, Oct. 28 and 8 p.m. and midnight Saturday, Oct. 29
Where: The Capitol Room at Harrisburg Midtown Arts Center, 1110 N. 3rd St., Harrisburg
Cost: $20; visit harrisburgarts.com
Another slice, anyone?
Embrace the spirit of the season on All Hallows Eve with a screening of "Rocky Horror" at Tellus360. Dressing up is encouraged, but those bringing along extras are asked not to bring messy props (guessing the water pistols aren't a good idea for this showing, either). As a bonus, all donations collected will be distributed to Lancaster Pride.
If you go:
When: 8:30 p.m. Monday, Oct. 31
Where: Tellus360, 24 E. King St., Lancaster
Cost: No set rate, but donations will be collected for Lancaster Pride; must be 21+ to attend. Visit tellus360.com for more details.