Battle between big beer and craft beer escalates
---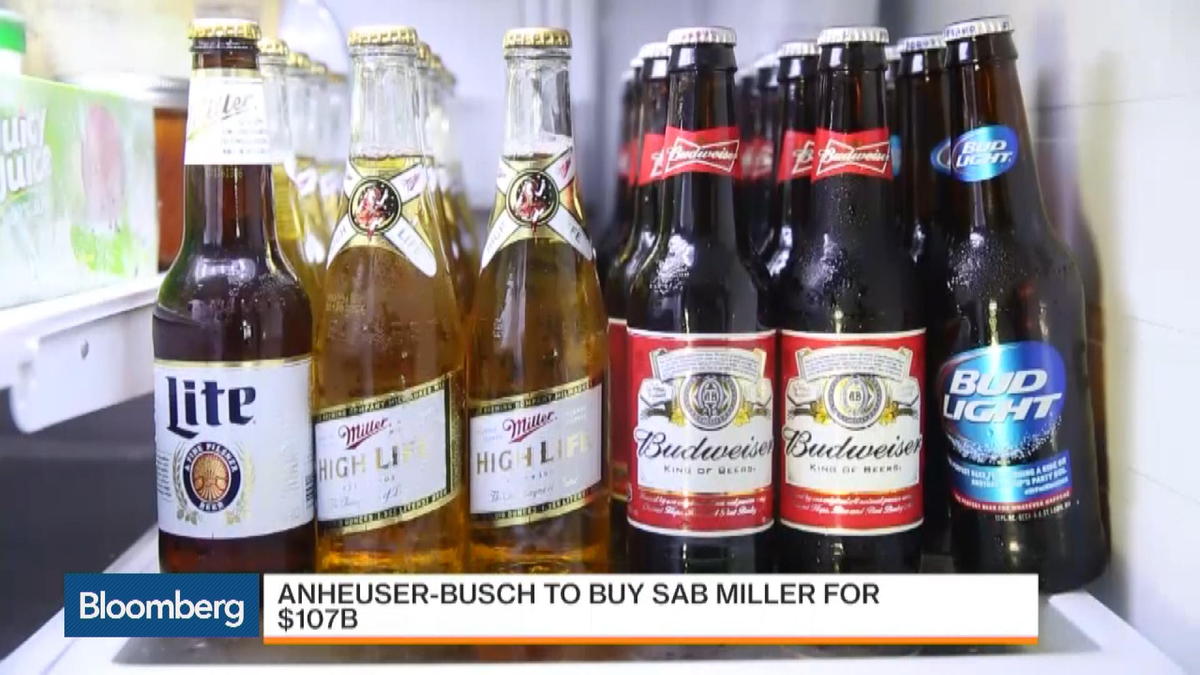 AB InBev's thirst for growth: Behind the SABMiller deal
Anheuser-Busch InBev made a formal $107 billion offer for SABMiller, sealing a long-anticipated deal that combines the world's biggest brewers into a company controlling about half the industry's profit.
Bloomberg
Escalation is brewing in the battle between big beer brands and independent craft brewers.
Even as global brewing leader Anheuser-Busch InBev progresses toward its planned $100 billion-plus acquisition of No. 2 global beer maker SABMiller, to be consummated later this year, the company remains on the hunt for new craft beer quarry.
AB InBev CEO Carlos Brito last week suggested that the company is far from done acquiring craft breweries. "The segment is growing, and it's profitable," he said during a conference call about the company's fourth-quarter earnings.
While AB InBev saw a decline in profit for the year, its Goose Island craft beer brand grew 150%, Brito said. "It's showing that there are consumers out there that, yes, will consider a national craft," he said.
Craft beer sales in the U.S. continue to grow, as overall beer sales have remained flat in recent years. Craft brewers command about 19% of the $100 billion U.S. beer market — up from 10% in 2012, according to the Brewers Association.
Seeking revenue growth, AB InBev has gone on a craft beer spending spree, acquiring Chicago's Goose Island in 2011 and several other U.S. craft breweries since then, including Blue Point Brewing, Elysian Brewing and Breckenridge (Colo.) Brewery.
AB InBev's strategy makes sense. While overall U.S. beer consumption is expected to decline through 2019, that of ale — which includes the most popular craft beer styles such as India Pale Ale and pale ale — is forecast to increase at a compound annual growth rate of 8%, research firm Euromonitor estimates.
The mega brewer has begun to tap into the craft beer strategy internationally, too, acquiring craft breweries in countries such as the U.K., Mexico, Canada, Colombia and Brazil.  "So now the next question is what about consumers, the global consumers? Will they consider a national or international or global craft?" Brito said. "We think the answer is yes."
Even before Brito's statements, some independent brewers and regulators have taken umbrage and called attention to the pending AB InBev-SABMiller merger. Three weeks ago, the House of Representatives' Small Brewer's Caucus, made up of 200 legislators from nearly every state, urged the Justice Department to carefully review the deal.
The resultant company's "effective control as the major supplier to independent distributors, combined with its direct ownership of distributors and recent acquisitions of craft brewers, allows for greater opportunity to suppress the sale of the various brands of other brewers," the legislators said.
A similar warning call was issued by the Brewers Association, a trade group for small and independent brewers. Even with the combined company's plan to sell off SABMiller's MillerCoors assets, "the size and scope of the AB InBev business has many ramifications for the U.S. beer industry," said association President Bob Pease at the time the merger was announced.
"It is vital for the continued success of small brewers that we have access to market with an independent and competitive middle distribution tier," he said.
Craft beer supporters cite the recently announced plans by AB InBev to open a 10 Barrel brewpub in San Diego as a sign of the mega brewer's goal to divert sales from that vibrant local brewing community. The Bend, Ore.-based 10 Barrel Brewing Co., acquired by AB InBev in 2014, "seeks to deceptively communicate itself as being part of the locally grown marketplace and leverage its resources and size as a corporation to compete against and ultimately harm the true local brewers and disrupt the market," the San Diego Brewers Guild said in a statement to Fortune's Chris Morris.
Greg Koch, co-founder and CEO of the nation's ninth-largest craft brewery San Diego area's Stone Brewing Co., in a recent San Diego Tribune editorial, bemoaned the recent sale of three area breweries Ballast Point (for $1 billion to Corona-owning Constellation Brands), Saint Archer (to MillerCoors) and Golden Road Brewery (to AB InBev).
"Big beer is what got us to almost no choice in this country and being, quite frankly, the laughing stock of the world when it came to beer, and today we have more than 4,000 breweries in the United States," Koch says in a new video made available to USA TODAY. "Craft beer is what has gotten us here."
AB InBev will continue to try to co-opt craft beer, Koch says. "Craft leads the way, Big Beer blocks as best they can, and when that fails they buy, dumb down and distribute. Big Beer has long done that all over the world," he said. "Europe has seen this with so many brands that Big Beer has purchased, consolidated and homogenized to a point that they're a shadow of their former glory."
Elsewhere some independent breweries are already bracing for whatever happens next. The fourth-largest independent, New Belgium Brewing Co. of Fort Collins, Colo., is reportedly looking for a buyer at a price of more than $1 billion, persons familiar with the situation say, asThe Denver Post and Reuters have reported. The brewery's board "has an obligation to have on-going dialogue with capital markets with the goal of making sure that we remain strong leaders in the craft brewing industry," said co-founder Kim Jordan in a statement sent to USA TODAY. "There is no deal pending at this time."

Three weeks ago, Victory Brewing Co., of Downington, Pa., joined Lakewood, N.Y.-based Southern Tier Brewing Co., in umbrella group Artisanal Brewing Ventures. The two self-described "mid-market" breweries will continue to be operated independently, but they will share resources and capital.
"The craft beer community is at its most critical moment since its inception as larger brewing corporations have bought into our grass-roots movement, irrevocably changing the marketplace," said Victory founder and brewmaster Bill Covaleski. "Like-minded brewers such as Victory and Southern Tier can preserve our character, culture and products by banding together."
Follow Mike Snider on Twitter: @MikeSnider