Get your tastebuds ready: Caramel M&Ms are coming
---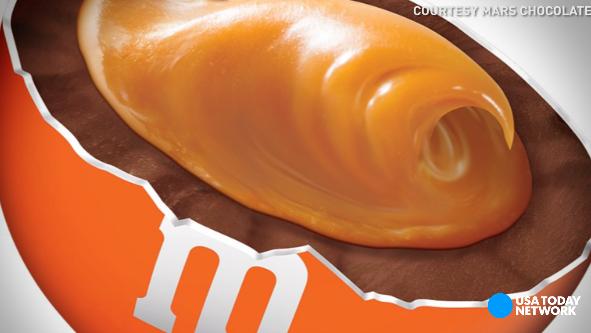 Can you guess M&M's newest flavor?
It might surprise you that this is the first time ever the classic candy will be filled with this ingredient.
USA TODAY NETWORK
As M&M's celebrate its 75th anniversary, the popular candy is embracing something new: caramel.
In a world filled with 3 Musketeers, Milky Ways and Rolos, it may be surprising that it took so long, but it's finally happening. Starting next May, you'll be able to buy M&Ms filled with caramel.
The addition of caramel is a first to the popular candy line. In the past, Mars Chocolate, the maker of M&M's, has embraced a variety of fillings including pretzels, peanut butter and almond but never caramel.
Earlier this year, the company experimented with three potential new flavors, honey nut, coffee and chili, letting customers vote for which they liked best. Given the response the caramel announcement has received on social media (nearly 38,000 reactions on a post on the official M&M's Facebook page) it's not much of a stretch to say the option for the filling would have won the vote had it been added.
Mars is clearly hoping the new flavor continues to take off. "It's a $2.2 billion flavor segment and the fastest growing segment in food right now. We want to be part of this category," said Hank Izzo, Mars' vice president of research and development, in an interview with CNN Money on the value of expanding into caramel.
The company is calling the launch of one the biggest in its history, telling CNN that it has invested around $100 million to build a new manufacturing site in Topeka, Kansas. Mars also plans to hire 70 employees for the new facility.
Follow Eli Blumenthal on Twitter @eliblumenthal