Night of terror in Paris, the City of Light: 'You find yourself between dead bodies'
---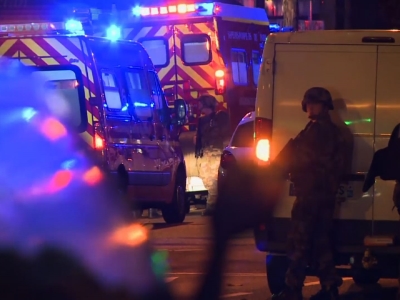 Raw: Police Near Paris Hostage Scene
At least 35 people were killed Friday in shootings and explosions around Paris, many of them in a popular concert hall where patrons were taken hostage, police and medical officials said. (Nov. 13)
AP
PARIS - It started out as a typical Parisian night, with crowded cafes, wine and music. It ended with horror, explosions and terrified people diving for cover as bullets fired from assault rifles flew into crowds.
The carnage took place in locations that terrorism experts call "soft targets" - a concert hall, a restaurant, a soccer stadium. Places that are seemingly impossible to defend against attacks carried out with military-style precision and deadliness.
Pierre Marie Bertin, 36, who was at the Bataclan concert hall when the shooting started, said his festive mood changed within moments to one of fear that his life was over. At least 100 died in the theater alone.
"I came tonight to hear the band, I am a fan, I like them, it is good music," he said, recounting of going to see the Eagles of Death Metal concert at the hall. "At first I didn't understand what was going on - there were so many gunshots and debris flying at my head."
"You think . . . what was that. You get down. You find yourself between dead bodies. You are afraid, you don't know what's happening – it's like you are in a dream. You go out onto the street there is no one, but there is blood everywhere," he recalled.
"It's just horrible. Imagine you are in a room and people start shooting. Men with kalashnikovs saying, 'shut up!' You just drop to the ground, everything happens so quickly. These are the kinds of people you see every day when you are going out. I don't know, they looked normal and had on sweatshirts and baseball caps. This was too strange."
Bertin said there was no time to react.
"You think if this happened you would run or defend yourself against the men, but these things just happen and then suddenly you can't move. It's horrible. When they say you can move you go with the crowd out the first door you can find. You try not to trip, but it is crazy, it is super crazy. You are lying with dead bodies."
"Here, there were four or maybe two (men), you only raise your head from time to time so it's hard to know. There were some men that went onto the balcony and tried to negotiate for the life of their wives with one of the guys. It was sickening. You lifted your head from time to time but you protected it with your hands."
Julien Pearce, a reporter with the Europe 1 news organization, was at the performance at the Bataclan concert hall when terrorists stormed in.
"I was inside the room when several gunmen came in," Pearce said. "Two or three individuals who weren't masked held Kalashnikov-type weapons and started shooting blindly into the crowd. It lasted about 10, 15 minutes. It was extremely violent. There was a panic. Everyone ran and people, including myself, were trampled."
At another shooting site, on Rue Charon, south of the concert hall, witnesses reported similar deadly chaos.
A witness told Libération:"I heard gunshots. I was not sure if it was firecrackers or gunshots. A car was parked in the middle of the street. It was in a bar at the corner of Rue de Charonne and Faidherbe. Two people came out.They had guns. I heard gunshots.Many shots. It lasted at least three minutes.There was panic.Then they got back into the car. They went straight to the Charonne station."
Witness accounts on Liberation, Twitter and RTL all mentioned at least four bodies lying on the street.
Emilio Macchio, from Ravenna, Italy, was at the Carillon restaurant that was targeted, having a beer on the sidewalk, when the shooting started, Associated Press reported. He said he didn't see any gunmen or victims, but hid behind a corner, then ran away.
"It sounded like fireworks," he said.
One of the restaurants targeted Friday, Le Carillon, is not far from the Charlie Hebdo offices, site of the notorious terror attacks earlier this year. The Bataclan concert hall is not far from that location as well.
Bhatti reported from Berlin. James reported from McLean, Va.