Gmail fails, Thinkgeek rules, and more April Fools' hijinks
---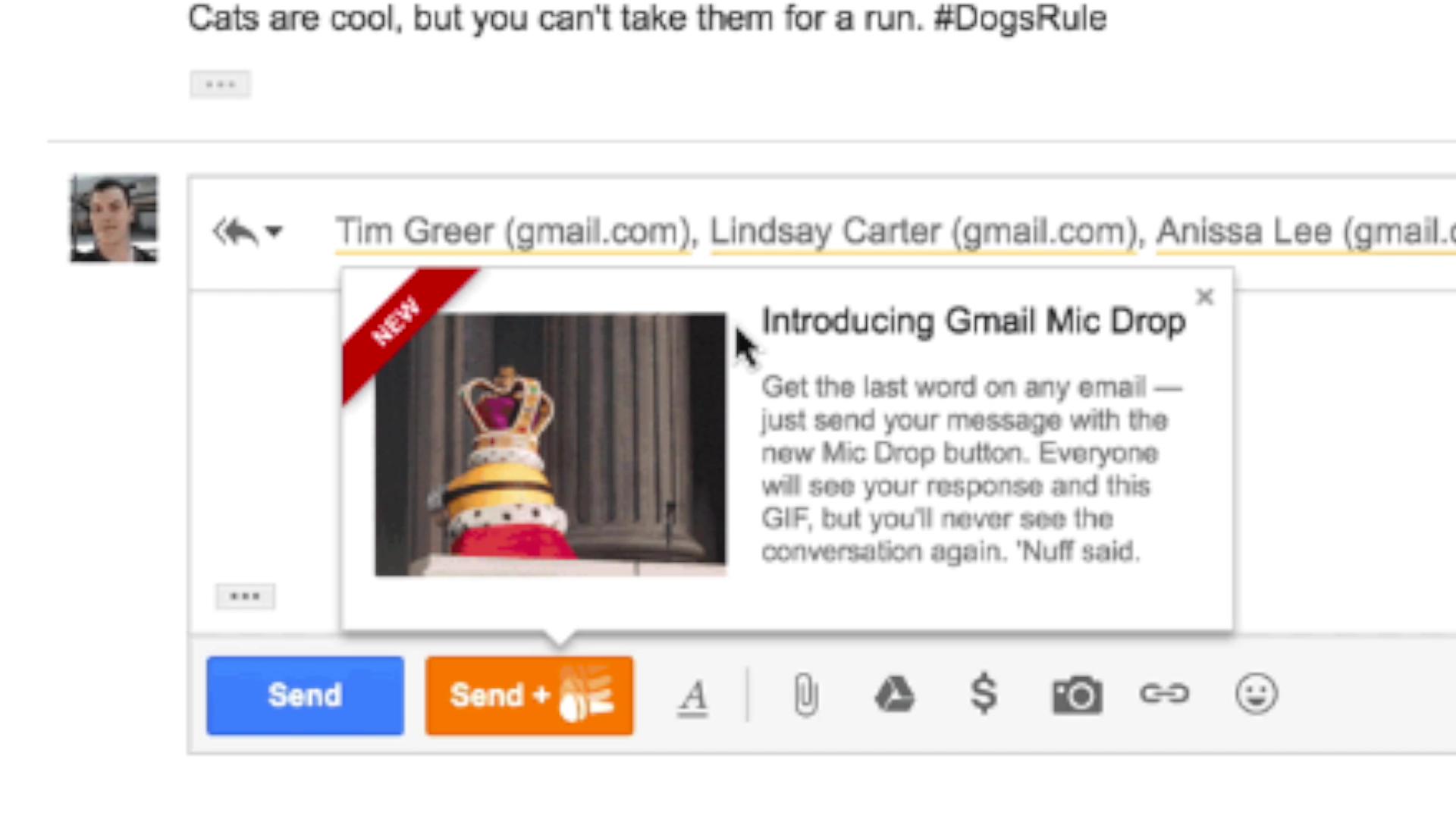 Google's April Fool's 'mic drop' prank backfired
Google's new mic drop addition wasn't exactly a hit with gmail users, so they pulled it! Rob Smith (@robsmithonline) has all the details on gmail's feature fail.
Buzz60
Let's welcome back the one day of the year where you can't trust a single thing you read on the Internet: April Fools' Day.
Like previous years, some things never change: Google really likes April Fools' Day, Thinkgeek always boasts the products you wish were real, although they may have been topped by Sony this year.
Let's check out how tech is trying to prank us in 2016.
Let's start with Google
Because they really go all in this time of year. With virtual reality soaking up the spotlight, it's only natural Google takes it to the next level of Google Cardboard Plastic.
"As good as VR is, it's never been quite as real as, well… real life," reads a description on Google's official blog. Plus who can argue with a design like this?
Google loved its emojis this year, offering users the option to search for photos using only emojis. Might want to use caution searching for "eggplant" though.
However, not every joke went over well with its audience. In email client Gmail, Google introduced the Mic Drop, which would include a GIF of a minion from the movie Minions dropping the mic any time you send a message. That's great and all, unless you need to send a serious email.
"Well, it looks like we pranked ourselves this year," reads a statement from Google. "Due to a bug, the Mic Drop feature inadvertently caused more headaches than laughs. We're truly sorry."
Thinkgeek wins. Again.
So much April Fools' goodness here. As always, the online retailer owns this day. Here are three of their best items:
Vertical Landing Mentos & Diet Coke Rocket
It travels 30 feet in the air, and is easy to set up. It comes with a soda bottle main thrust rocket, three smaller stability rockets, aquarium tubing, and 2 packs of peppermint Mentos. Diet Coke sold separately.
The best part is thanks to the stability rockets, the device will land itself. Amazing.
Star Trek White Noise Sleep Machine
Can't fall asleep? Enjoy the soothing sounds of the USS Enterprise or the DS9 Operations Center. It also projects a moving starfield on your ceiling, and includes an LCARS touch screen display and "red alert" alarm system. Why isn't this real again?
Attack on Titan Colossal Titan Lawn Ornament
It's a 25-foot titan on your lawn. Not sure I need to do more to sell you on this.
Sony develops a Proton Pack
This might capture the "April Fools' Gadget We Wish Were Real" award. Sony claims to have created the first ghost-catching device. It's got an embedded 4K projector, super slow motion capture capability and is slime proof (obviously). Now we're prepared in case this happens:
How to hire a cat reader
Maybe you like using Groupon to check out a new restaurant, or get a great discount on an adventure. Starting today, you can use Groupon for something truly awesome: finding someone to read to your cat.
Users have several books to choose from including The Cat in the Hat and The Very Hungry Caterpillar, as well as four readers. We're going with Beth: "A library scientist by profession, Beth is known as The Cat Whisperer among several knitting circles and has the feline intuition to identify your cat's literary mood in any given moment."
Videos in Snoopavision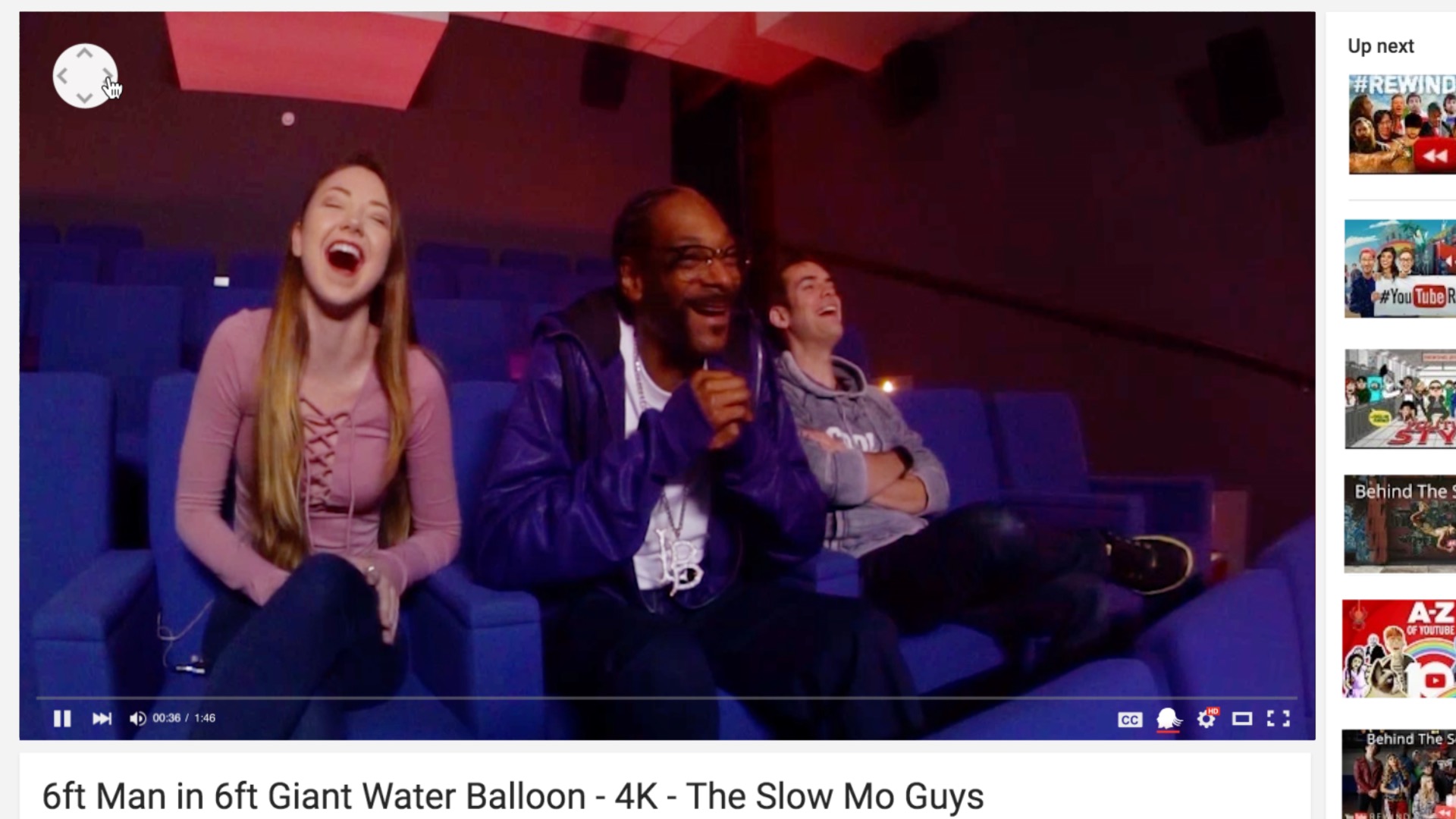 YouTube's latest feature: watch videos in 360, with Snoop Dogg
On a day known for 'special' product anouncements, YouTube debuts it's latest feature: Snoopavision.
USA TODAY
Watching 360-degree videos on YouTube is awesome, but it can be even better when you're able to watch them with Snoop Dogg. Snoop even "coded the hell out of this software" to get "Snoopavision" up and running. Yep, we're totally behind this.
You can teach dogs to code now
Everybody's learning to code, so why not give Man's Best Friend the opportunity? The Wonder Workshop, the makers of the Dash & Dot robots that can help teach kids to code, introduced a new app called WonderPaw.
The app uses a four-paw touch interface to teach Dash and Dot tasks such as playing fetch. I'd settle for an app teaching my dog not to bark in front of the window when strangers walk by, but sure, this works too.
John Stamos takes over Netflix
Notice anything different about the categories Netflix uses to organize its selection of movies and TV shows? It appears a certain actor from the Netflix series Fuller House is dominating your library.
Among the best categories featured: "TV Comedies That Manage To Be Funny Even Though Stamos Isn't In Them," "Reality TV John Stamos Watches But Denies It If You Ask Him," and "Independent Films Starring Actors Less Rich and Famous Than John Stamos."
The Roomba learns to Zumba
Zumba Fitness and iRobot teamed up to create a robot vacuum cleaner that's also very good at Zumba. Bonus points for carrying around an iPhone and speaker while cleaning your carpets, Roomba.
A 4K display in a can
Lugging around a flat screen is so last year. Company Prysm now offers the option to "Spray and Display" with its product Infinity. First, use the aerosol spray to cover a flat surface like a wall, pair it with a node, receiver and processor and you have a 4K display. Hope you never want to move this.
Ready for the shower belt?
Apparently, showering can be hazardous. Hence the need for the Waterpik Shower Belt that uses suction cups to keep you upright while you get clean.
Smart pants
Samsung is bringing the Internet of Things to your jeans -- and other pants. It's called The Internet of Trousers, and it's littered with enough Dad jokes to make any reader groan.
There's the Wi-Fly feature alerting your smartphone when your zipper is down, a Get Up! alert if you're sitting too long and a Keep-Your-Pants-On Mode to help wearers maintain their composure.
Rent your very own lair
From Airbnb comes the chance to secure your very own hideaway on Lairbnb. Great if you love superheroes, or maybe you're a goblin or evil villain or something.
T-Mobile's solution for epic binging
If you must binge on Netflix or Hulu and need a great, hands-free option, then check out T-Mobile's insane headset. Not exactly elegant (not to mention there's a lot of pink happening here), but still interesting. Also, thanks to tech columnist Ed Baig for modeling. At least now you'll have your hands free to tweet at CEO John Legere.
Hulu as matchmaker
There are several ways to bond with a potential significant other (or 'bae' as the kids call them): common interests, similar political affiliations, and a shared love for Empire. Streaming service Hulu is launching an app called HuluDatr, which pairs singles based on the TV shows they watch. There are also bonus features like the Pet Watcher and the Mood Setter equipping you with a soft blanket, candles and other goodies in case you're ready to Hulu and chill (sorry, Netflix).
Follow Brett Molina on Twitter: @brettmolina23.